The brand new Aubie Experience Exhibit commemorates 41 years of the Aubie Program at Auburn University. Aubie, Auburn University's tiger mascot, is in his 41st season as a spirit leader and goodwill ambassador for Auburn University. The nine-time Universal Cheerleaders Association National Champion was the first to be inducted into the Mascot Hall of Fame. Created by artist Phil Neel, the cartoon version of Aubie first appeared on the Auburn/Hardin-Simmons football program cover on Oct. 3, 1959. A popular character among Auburn fans and one of the most animated mascots in the country, Aubie is the living spirit of Auburn.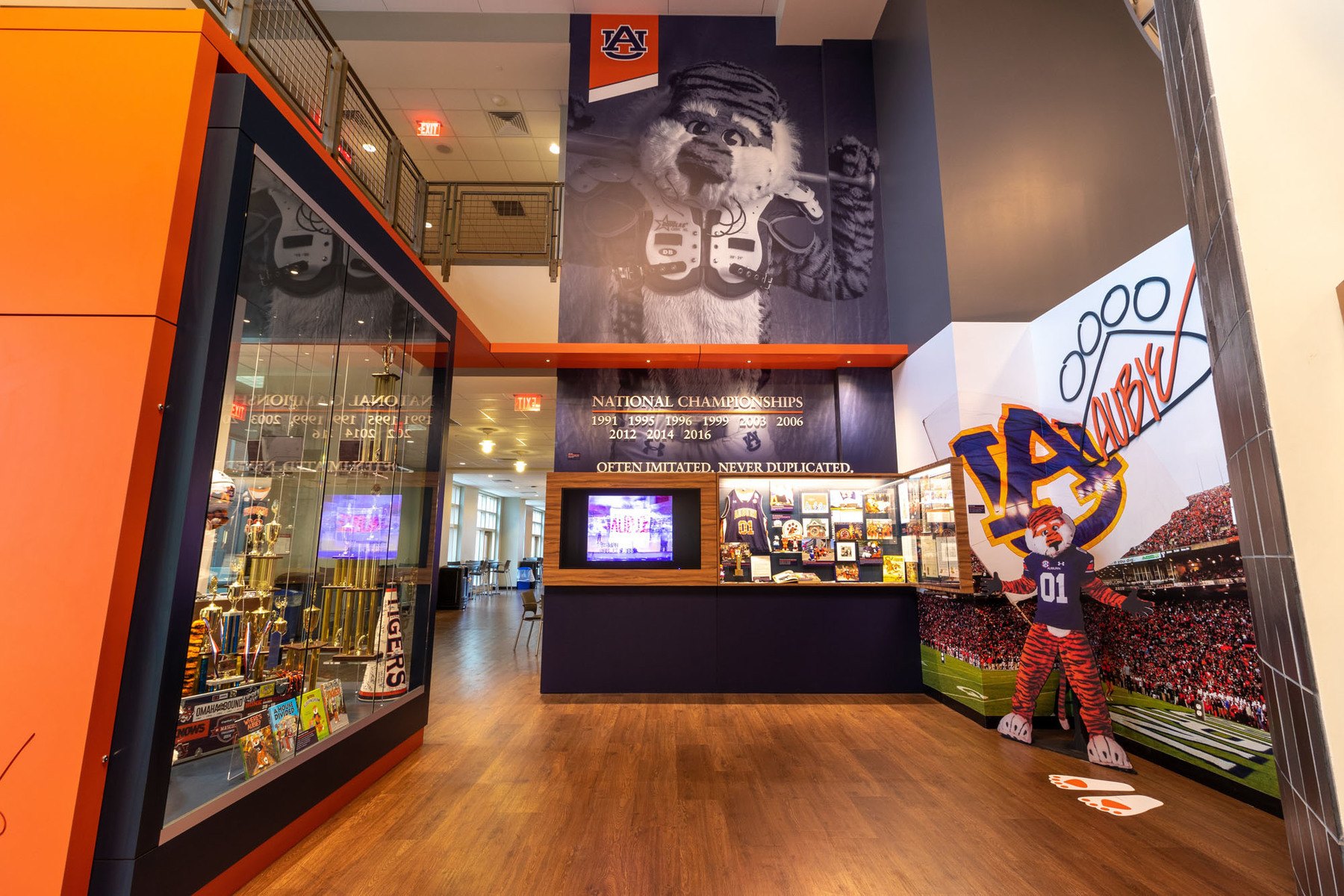 The Auburn University Student Affairs Department reached out to us at Method-1 to inquire about having a trophy case designed that would display the collection of trophies and awards that have been earned by their mascot over the years.  As we began to work through ideas about what this trophy case should look like, it became apparent that the only way to truly do this display justice was to somehow capture the personality of Aubie and put that on display.
With that being the overall goal, we knew that one trophy display case was not going to be an adequate representation. So, the idea grew and expanded. The exhibit would grow to expand out onto the surrounding walls and adjacent areas. A second display case was developed as well as installing a digital monitor to enhance the experience.
Now completed, the exhibit spans 1200 square feet and is located on the second floor of the Auburn University Student Center. The university estimates roughly 100,000 people pass through this building every day. Not only is the exhibit larger than life, but it is located within the busiest place on campus for maximum exposure.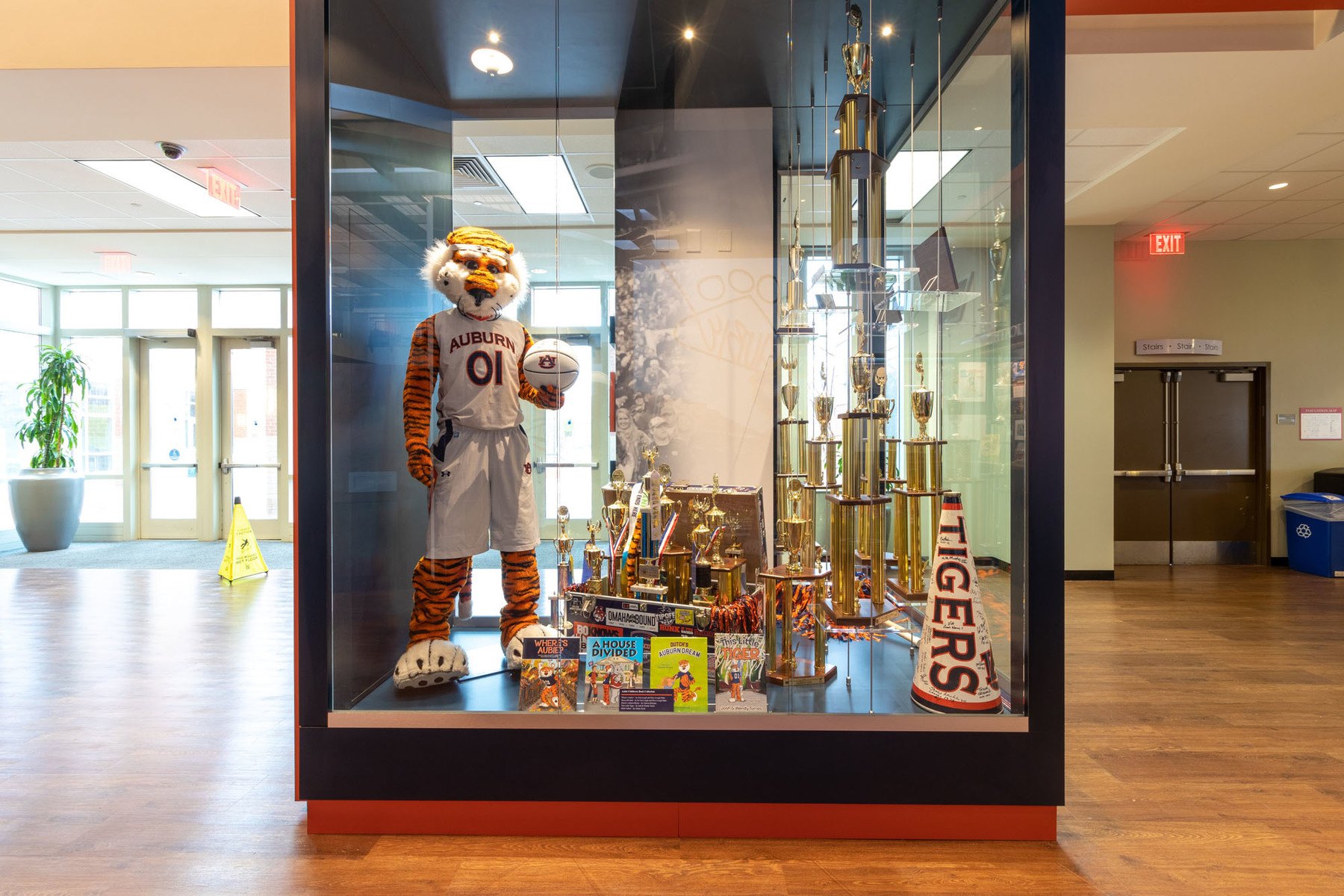 This experience allows fans a photo op with a lifesize Aubie in front of a staged background. It includes a very large trophy case, with an Aubie inside, as well as a specially designed trunk that is symbolic of Aubie's history. The trunk includes awards, memorabilia and props from various stops along the 
mascot's journey. A second smaller case showcases artifacts from original newspaper articles, bobble heads, annual Aubie calendars, yearbooks and other documents that are worthy of being  showcased. There are also oversized wall graphics and a three-dimensional Aubie signature which give this exhibit an authentic Aubie vibe.
Indeed, Aubie is the living spirit of Auburn. It was our pleasure and honor to be able to imagine, design, create and install this exhibit at the university. We enlisted some of our most impassioned staff members to take this journey of creation and implementation. It was a project close to their hearts and one that they will cherish always.
By Melissa Johnson
Contact: Melissa Johnson, [email protected]  Marketing Director
Method-1 Birmingham, AL
https://method-1.com/wp-content/uploads/2020/02/4-Auburn-Showcase.jpg
1200
1800
Jordan
https://method-1.com/wp-content/uploads/2021/03/Method-1-Logo-Website-2021.png
Jordan
2020-02-12 15:29:30
2021-02-11 16:45:03
A "Case" Close to Home