Late last year syndicated financial talker Dave Ramsey moved into a new Nashville area location that has more space for listeners who visit the program to do their "debt free scream." Method-1 one was proud to be a part of this new design and build. The new studio is the centerpiece of the six-story Ramsey Solutions headquarters just outside the city that will eventually grow to include 600,000 square feet of office space and a 50,000 square-foot conference center.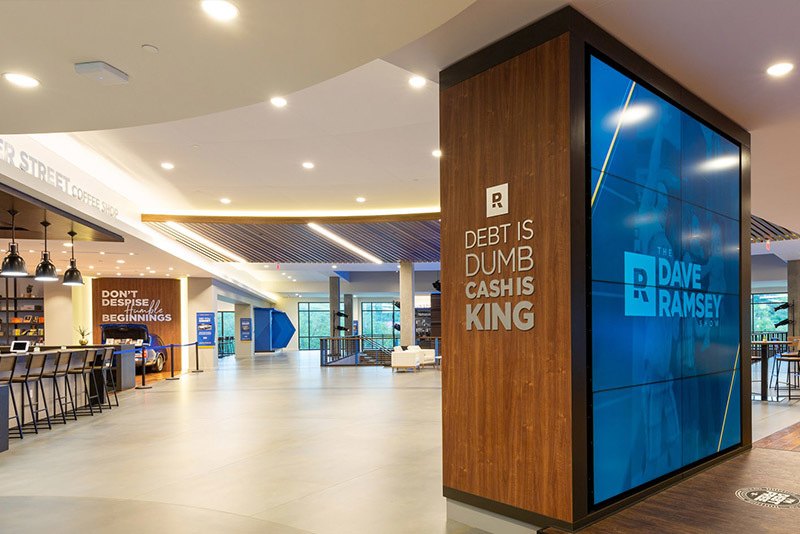 "We're extremely excited for people to visit our new studio," Brian Mayfield, Executive VP of Ramsey Media said in a release. "Every year, we welcome thousands of people to watch the show and do their debt free screams. Our new space is going to take that listener experience to a whole new level."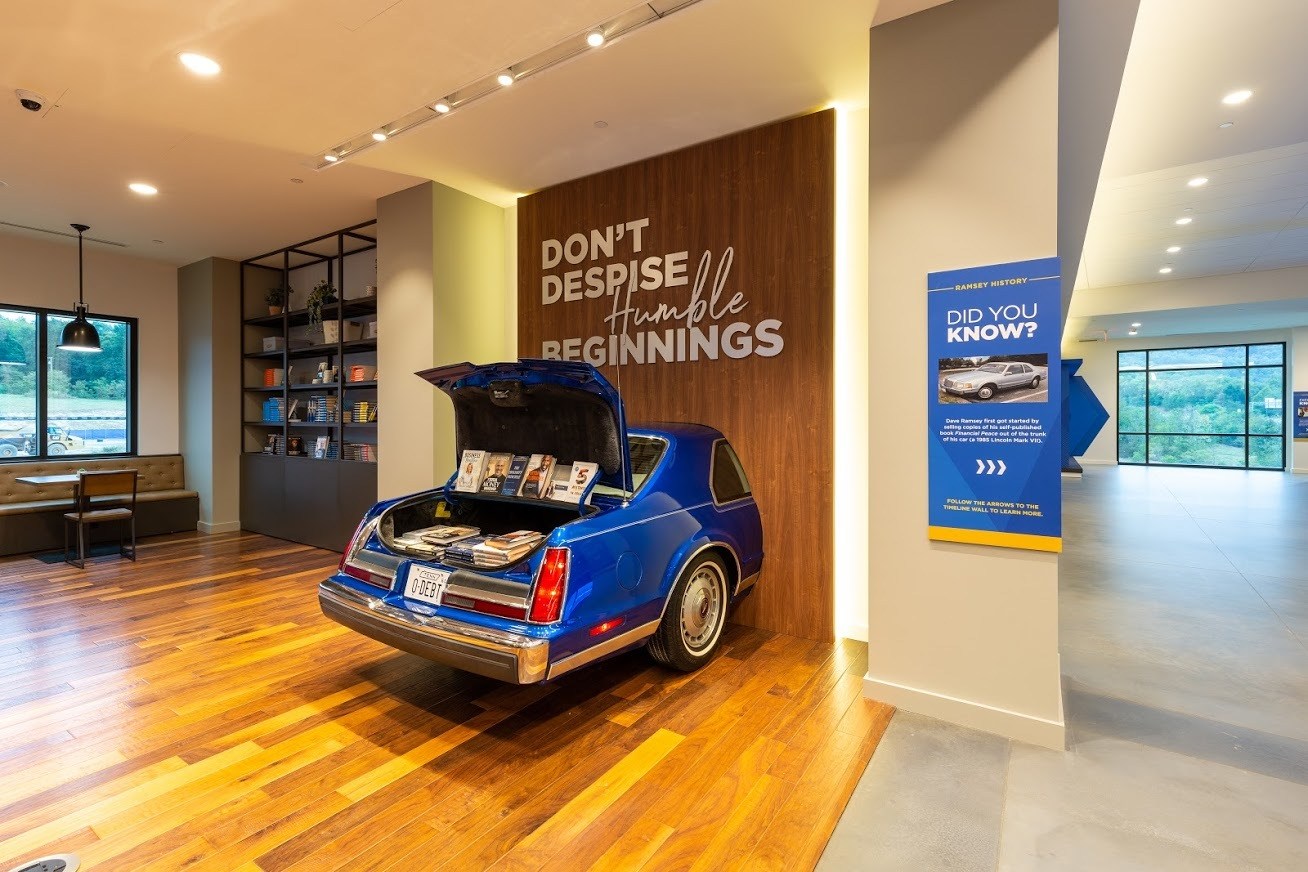 The main goal of this project was to "make it an experience" when anyone enters the building. There is a special bible verse in custom cut 3D letters in the rotunda as you enter, as well as a chandelier decorated with hanging lights and radio microphones. As you come through the lobby, within the bookstore, our team designed a replica of the car that Dave Ramsey used to sell books out of during his humble beginnings. Above the car is a set of 3D letters that are finished with a brushed metal laminate, and within the "trunk" of the car are books for purchase.
Dave's studio contains a custom built back wall with shelving that is lit by recessed lights and trimmed with edge-lighting.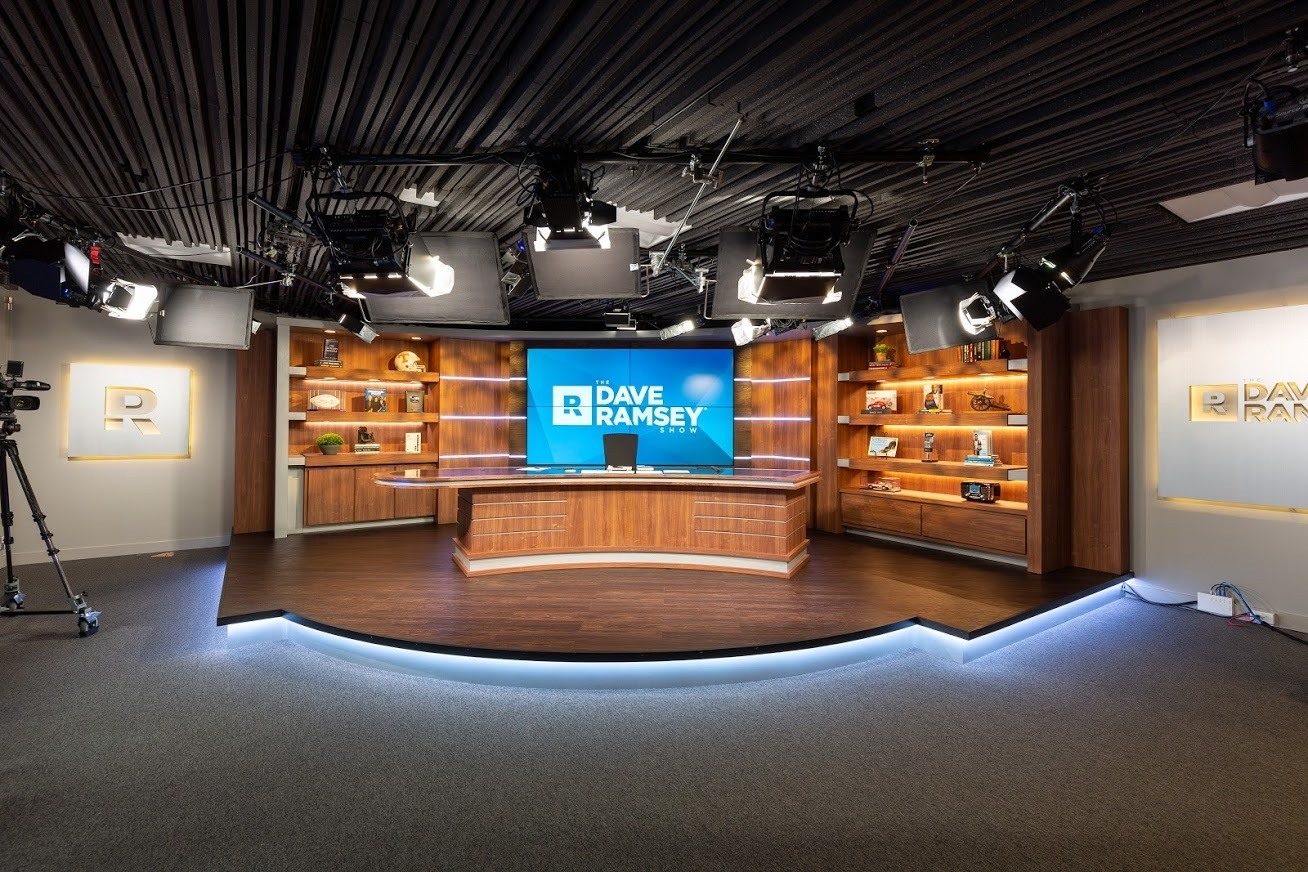 There are cabinets and drawer storage along the base as well. His custom desk is routed to fit the control panels for his show and sits upon a 6″ tall stage trimmed with edge-lighting, which includes custom access panels that allows ease of wire routing. Along with Dave's studio, Studio B was designed and fabricated in a similar fashion, but on a smaller scale.
Along the back of the studio there is a timeline wall to take guests through the company's history. The background of the timeline is a vinyl graphic that was applied directly to the surface of the wall. The timeline wall is populated with applied direct print graphic panels, mounted directly to the vinyl background with integrated vitrines for books and other artifacts. Four custom kiosks are also located within the space – three are free standing and one larger kiosk is located near the left wall as you exit the hallway. This area was designed to be flexible and reconfigurable as the company grows for years to come.
Now in its 27th year, "The Dave Ramsey Show" is the largest independently owned and operated and third largest nationally syndicated talk radio show in the nation. The radio show is also the fifth most downloaded podcast available across all major platforms and has more than one million YouTube subscribers.
We are very proud to have been a part of this amazing new interior. We were able to bring to life the experience that the show was hoping to achieve. We look forward to many more projects in the future with the great staff at Dave Ramsey.
https://method-1.com/wp-content/uploads/2019/10/Car-2.jpg
872
1308
Jordan
https://method-1.com/wp-content/uploads/2021/03/Method-1-Logo-Website-2021.png
Jordan
2020-11-11 17:18:46
2021-02-10 16:32:56
Dave Ramsey – A Brand New Experience