A Smart Solution for Improving Millennial Employee Retention
America is experiencing the best job market in decades. With that, companies are forced to deal with attracting potential employees and employee retention on a greater level. Considering the largest segment of our workforce are Millennials, it only makes sense to focus on what entices them.
Millennials have more opportunities than previous generations entering the workplace.  They  can afford to be picky when choosing where to interview.  Benefits, pay and hours aside, consider an applicant's first impression of your company.  What does your interviewee see when they walk into your business?  Does it reflect your brand?  Is their view inviting?  Consider an employee that's been with the company for a few years, do they work in an atmosphere that fosters good vibes?  Do they take their breaks in an area that makes them feel valued?  Are your employees surrounded by visuals that re-enforce your brand values?
Millennial employees are great resources to build and promote your brand, so make sure they feel connected to it.
Developing brand immersion in the workplace can create strong advocates in your employees for your products and services.  Mercedes-Benz U.S. International, Inc. (MBUSI) in Alabama is the sole distribution site for the GLE-Class, GLS-Class vehicles, GLE Coupe.  They employee more than 4,000 workers.  MBUSI approached Method-1 with their problem retaining their Millennial employees in an aging workforce.
According to Department of Labor Statistics the number of factory workers under the age of 35 has dropped from 7.8 million to 4.5 million since 1994.  Mercedes-Benz understands the importance an environment that attracts Millennial workers.   Method-1 Interiors came in and executed a strategic plan to create inspiring spaces throughout the sprawling campus.  See more of the work here.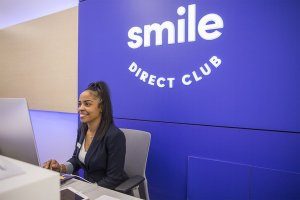 Another company that understands this is Smile Direct Club. Their open interior is featured prominently on their career webpage where they recruit new employees.  You can see more of Smile Direct Club's interiors here.
Get started now on a plan for your business interior